This article will explain what global and virtual MAC addresses mean and what they are used for in performing wireless MAC filtering on your router.
Virtual MAC is the MAC address generated for a wireless device each time it is connected to the network through the Linksys RE1000 wireless-N extender.  The wireless adapter's MAC address, on the other hand, is shown as the Global MAC address.  These values can be viewed on the RE1000's Wireless Clients Table.
To get to the Wireless Clients Table on your RE1000, follow the steps below:
Step 1:
Access your wireless extender's setup page.  For instructions, click here.  On the setup page, click the Status tab.
Step 2:
Select the WLAN Statistics sub-tab and then click on the Wireless Clients Table button.  The page will then display the table that shows the global and virtual MAC addresses of all wireless devices that are connected to your RE1000.

However, the wireless router only sees the virtual MAC address of the device connected to the RE1000 so it will be the one listed in the router's DHCP client table.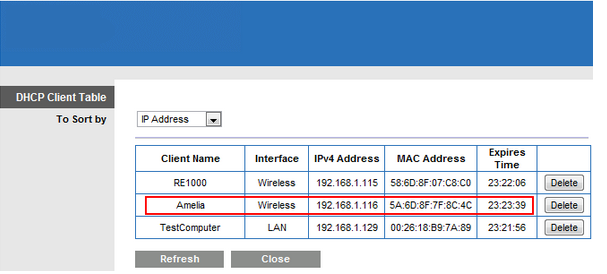 If you are trying to enable the Wireless MAC filter feature on your Linksys wireless router, you also need to add the virtual MAC addresses of your wireless devices on the list since these are the only addresses recognized by the router for those wireless devices connected on the network through the RE1000 wireless range extender.