Firmware is a program or set of instructions encoded into a device.  Keeping the firmware on your device up-to-date will help ensure it functions more efficiently and fix issues you may have experienced while using it.  This article discusses how to upgrade the firmware of the Linksys WAP300N.
There are two steps you need to perform to update the Linksys WAP300N's firmware:
i.  Downloading the Linksys WAP300N's firmware
ii. Upgrading the Linksys WAP300N's firmware
NOTE:  Before downloading the firmware, make sure your computer has an active Internet connection.  If your computer is plugged directly into the router/modem router and cannot get online, set up your router/modem router first before proceeding with the upgrade.
Downloading the Linksys WAP300N's firmware

Download the latest firmware from the WAP300N product page .  If the firmware you downloaded is a zip file, you need to unzip it first.  For step-by-step instructions on how to unzip the downloadable file, click here.
Upgrading the Linksys WAP300N's firmware
Step 1:
Access the Linksys WAP300N's web-based setup page.  To do this, launch a web browser and enter the IP Address of the Linksys WAP300N on the Address bar then press Enter.
NOTE:  If you are using a Mac® computer to access the web-based setup page, click here instead.
Step 2:
On the Setup page, click Administration and select Firmware Upgrade.

Step 3:
Once the Firmware Upgrade window opens, click on the Browse… button.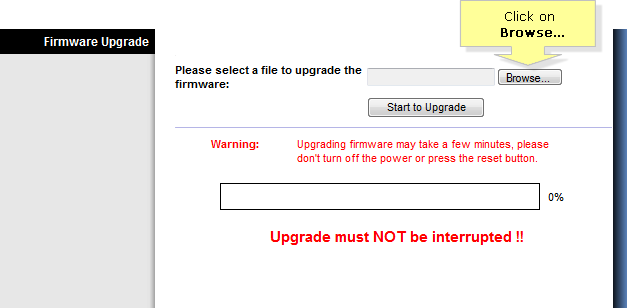 Step 4:
Locate and select the firmware file you downloaded earlier then click Open.
NOTE:  The firmware's file extension can be .bin, .img or .bix.  In this example, code is the name of the firmware file.  The filename may vary depending on the file downloaded.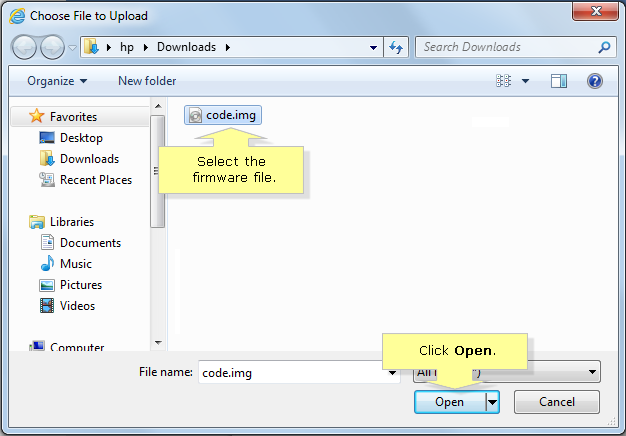 Step 5:
Click the Start to Upgrade button.
 

IMPORTANT:  Do not interrupt the upgrade process.  Doing so may permanently corrupt the firmware of your device.
 

NOTE:  If you selected the incorrect file, a prompt similar to the image below will appear.  If this happens, click the OK button and repeat Steps 3 to 4 and select the correct file.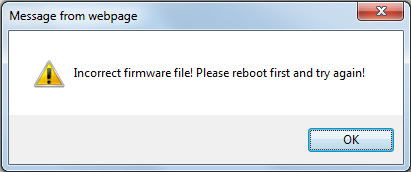 Step 6:
When the Upgrade has been successful prompt appears, click Continue.
You have now successfully upgraded the firmware of your Linksys WAP300N.  In case you encounter connectivity issues with your access point, you may reset it.  Using a pen or paper clip, press and hold the Reset button for about five seconds.
If you still encounter more problems, reconfigure the access point to work with the router in any of its four available modes.  To learn how, click on the links below:
Setting the Linksys WAP300N N300 Dual-Band Wireless Access Point to Access Point mode
Setting the Linksys WAP300N to Wireless Range Extender mode
Setting the Linksys WAP300N to Wireless Media Connector mode
Setting the Linksys WAP300N to Wireless Bridge Mode