Scenario:

I have an OS X 10.13.  After installing the Linksys USB3GIG adapter on my Mac, all my wired and Wi-Fi adapters were disabled.  How do I fix this issue?

Solution:

We are aware of this issue and we are currently working on a Linksys USB3GIG USB 3.0 Gigabit Ethernet Adapter driver for OS X® 10.13.  For now, follow the steps provided as workaround to fix your concern. 

You'll need another computer to download the Realtek™ driver that will fix the issue and a USB flash drive to transfer the files to your Mac® computer.  Start with the instructions below using the other computer.
Step 1:
Open a web browser, then 
click
here
t

o download the driver from the Realtek website.
Step 2:
Scroll down and look for
MAC OS 10.6 to 10.13
, then
click the Download
icon beside it.
Step 3:
Enter your email address in the field then click Download File.  You'll be informed that the download link has been sent to your email.
Step 4:
Access your email and open the message from Realtek.  The download link might expire in a few minutes so be sure to access it immediately.  Below is an example of the message.
Step 5:
Click the
download link.
Step 6:
Answer and submit the Captcha verification, then wait for the download prompt to appear.
Step 7:
Save the file to your preferred location.
Step 8:
Insert the USB flash drive and transfer the downloaded file to your Mac computer.
Step 9:
Extract the downloaded file and open 
RTUNICv1.0.17.pkg
from the extracted files
. 
The installation process will begin.
Step 10:
On the welcome screen, click Continue.
 
Read the Important Information and click
Continue
again.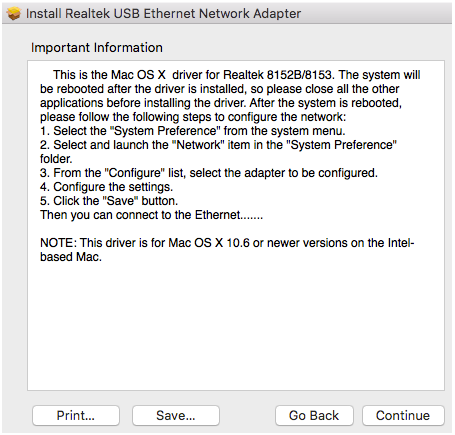 Once done selecting your preferred language from the drop-down menu, click Continue again on the next page.
 
Step 11:
Once the Software License Agreement window appears, click Agree to continue the installation.
 
Step 13:
Click Install.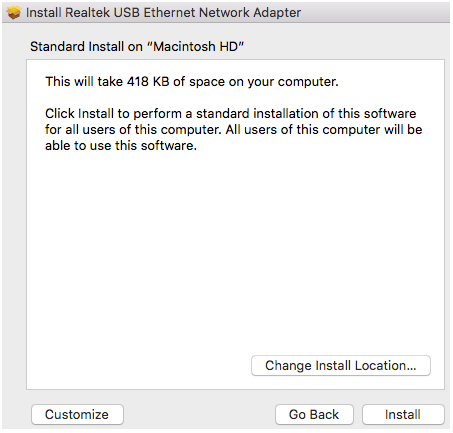 Step 14:
Enter your Mac credentials when prompted, then click 
Install Software
.

Step 15:
A pop up window will inform you to restart your computer once the software has finished installing.  Click Continue Installation. 
 
Wait while the software installs the driver.
Step 16:
Click Restart to complete the installation. 
 
The wired and Wi-Fi drivers of your Mac should now be enabled and the Linksys USB3GIG should also be properly installed.
Related Article:
Installing the Linksys USB3GIG