text.skipToContent
text.skipToNavigation
SALE
Linksys WRT32X AC3200 Dual-Band Wi-Fi Gaming Router with Killer Prioritization Engine
In Stock
FREE SHIPPING on All Orders
Features
KILLER PRIORITIZATION ENGINE

The first router purpose-built to prioritize gaming.

CUSTOMIZED GAMING FIRMWARE AND USER INTERFACE

Custom-built interface and firmware for gaming traffic control.

1.8 GHz DUAL-CORE CENTRAL PROCESSING UNIT (CPU)

Promotes simultaneous high-speed data processing.

4 HIGH-PERFORMANCE ANTENNAS

Ensure optimal coverage and maximum signal strength – even in large, multi-story buildings.

MU-MIMO

Latest Wireless-AC technology for simultaneously streaming and gaming on multiple devices.

SIMULTANEOUS DUAL BAND (2.4 + 5 GHz)

Delivers a stronger connection at a wider range than a single band at speeds up to AC3200.

ADVANCED WIRELESS SECURITY

Safeguard your network with wireless WPA2 encryption and an SPI firewall.

TRI-STREAM 160

Doubles bandwidth from 80 MHz to 160 MHz on all spatial streams.

GIGABIT ETHERNET PORTS

Transfer data 10x faster than Fast Ethernet, ensuring high-speed connectivity for wired devices.

ESATA PORT

Offers added convenience. Also accommodates USB 2.0.

USB 3.0 PORT

Share files and add external storage across your network with the USB 3.0 port. USB 3.0 offers enhanced speeds over 2.0.

EASY SETUP

Installation is fast and easy. No CD required.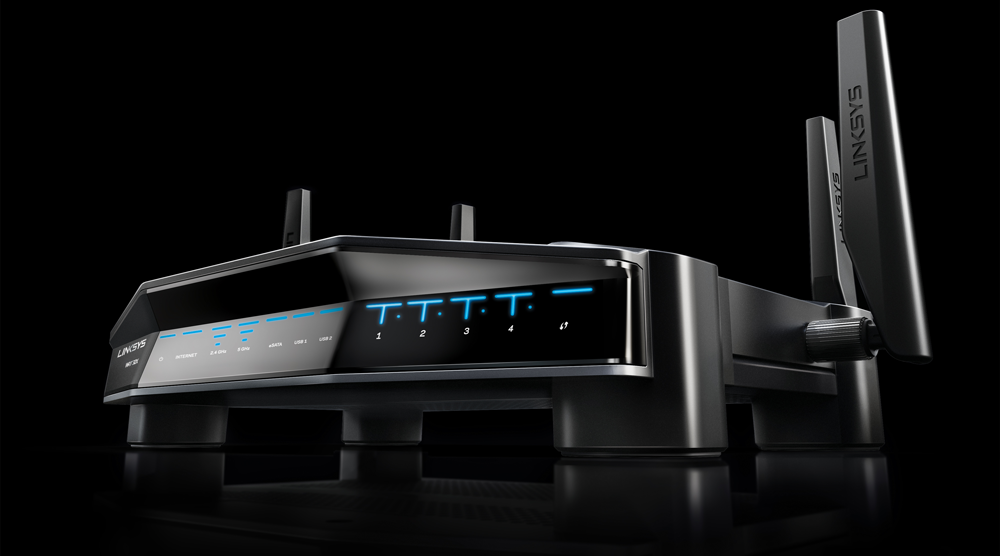 BUILT EXCLUSIVELY FOR GAMING
Engineered purely for gaming, the Linksys WRT32X Gaming Router with Killer Prioritization Engine provides a dominating home network.
This high-performance gaming router synchronizes with Killer-enabled PCs--from brands such as Alienware™, Gigabyte™, MSI™ and Razer™--to reduce peak ping times by up to 77% and deliver smooth, lag-free gaming.*
You gain an unrivaled advantage over your competition in MOBAs, shooters, and other games where a single millisecond can mean victory or defeat.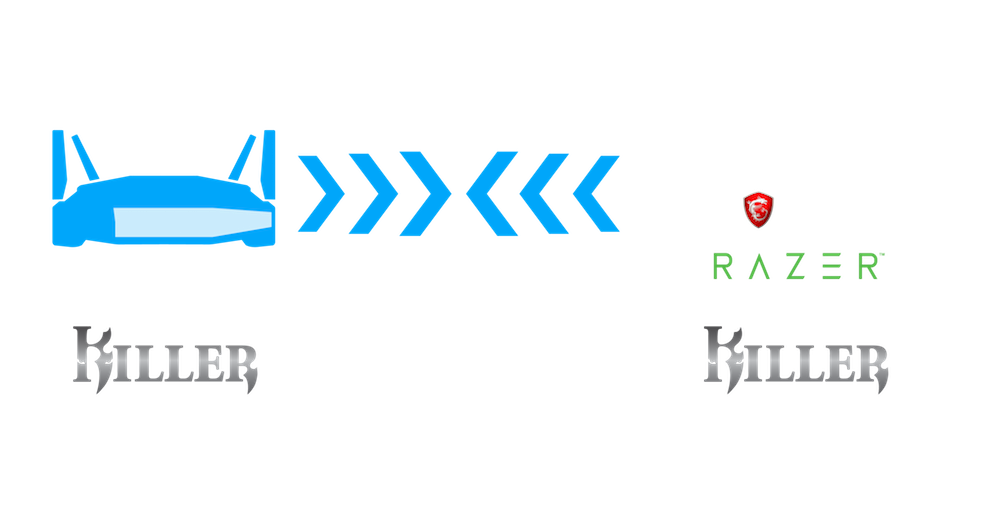 LOWER PEAK PING UP TO 77%*
We partnered with Killer Networking, industry leaders in gaming networking, to develop a Wi-Fi router for hard-core gamers. The WRT32X uses the Killer Prioritization Engine to identify, prioritize, and accelerate your gaming traffic above all other devices and activities on your home Wi-Fi.
Gaming PCs may experience less than optimal ping rates when the network is under load. When matched with a Killer-enabled PC, the WRT32X gaming router automatically syncs using the Killer Prioritization Engine to reduce peak ping by up to 77%.* The result, unparalleled gaming-conquering response rates no matter what other devices on the network are doing.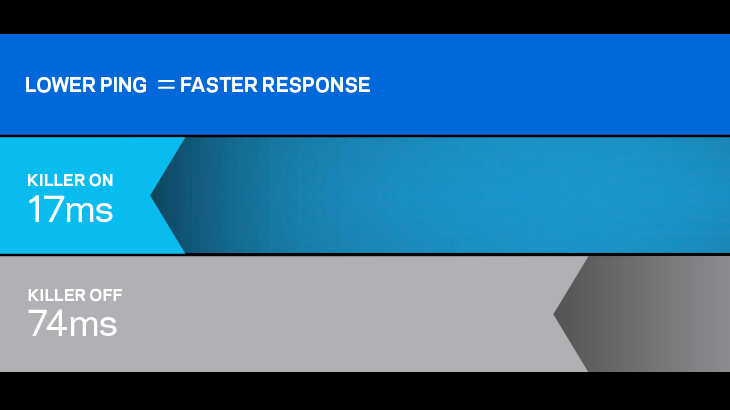 CUSTOM-BUILT FIRMWARE BOOSTS PERFORMANCE
Enjoy exceptional online gaming performance from specially engineered software. Gaming-optimized firmware works to minimize response times, thus providing a virtually lag-free connection when you need it most: in the midst of a heated competition.
You won't lose your edge even if your roommates or LAN party are streaming, gaming, or strategizing with you over voice chat about how to take down the competition.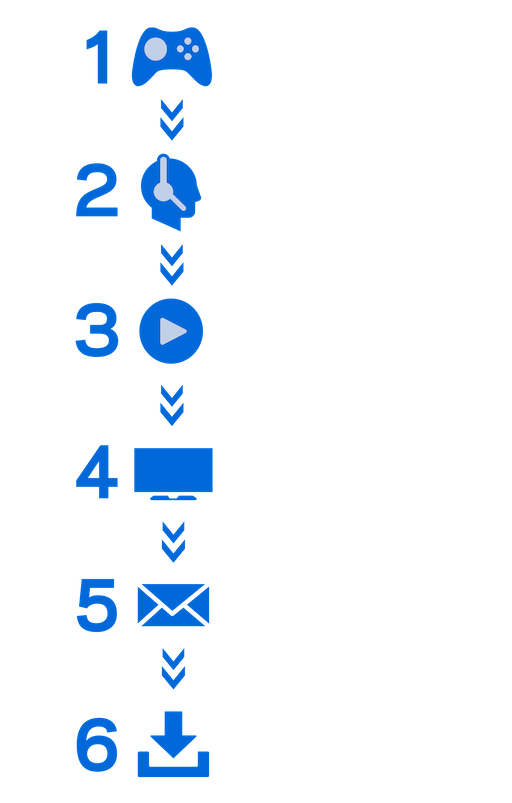 CUSTOM-BUILT FIRMWARE BOOSTS PERFORMANCE
Enjoy exceptional online gaming performance from specially engineered software. Gaming-optimized firmware works to minimize response times, thus providing a virtually lag-free connection when you need it most: in the midst of a heated competition.
You won't lose your edge even if your roommates or LAN party are streaming, gaming, or strategizing with you over voice chat about how to take down the competition.
ULTRA-FAST Wi-Fi
The WRT32X gives you dominating Next-Gen AC Wi-Fi speeds up to 3.2 Gbps that keep you at the top of your game. Experience exceptionally smooth, responsive gameplay. The Killer Priorization Engine will reliably fast-track gaming traffic whether you're using a wired or Wi-Fi connection.
---
POWERFUL INTERFACE FOR ULTIMATE CONTROL OVER Wi-Fi TRAFFIC
The intuitive interface lets you see your home's Internet traffic. You can monitor connected devices, manage advanced networking settings, and conduct speed tests with just a few mouse clicks.
With the gaming-focused UI dashboard, you can check network traffic speeds, check VPN and network storage status, see Killer device connection status, and also control port-forwarding. You'll know at a glance whether your PC or console games are performing optimally.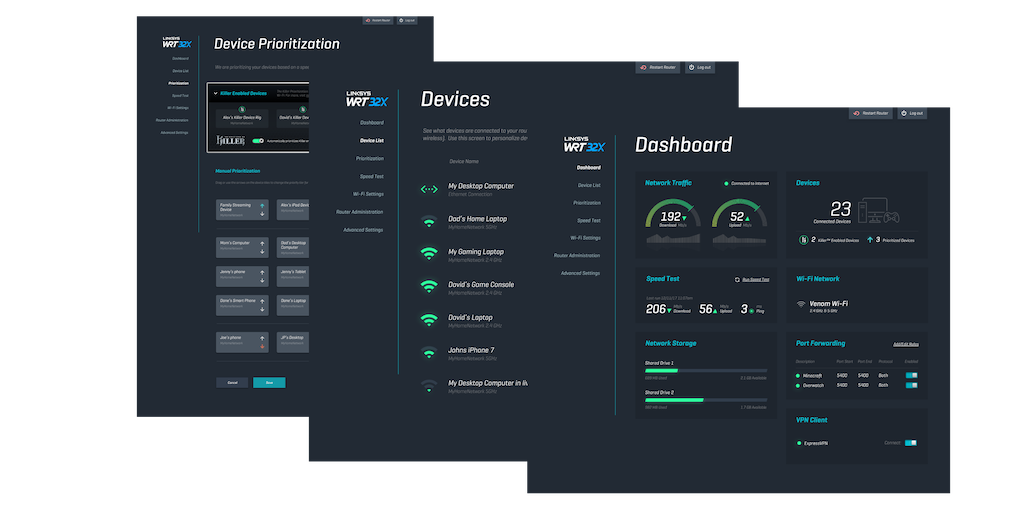 MU-MIMO PROVIDES STUNNING MULTI-DEVICE PERFORMANCE
Thanks to MU-MIMO technology, the WRT32X Gaming Router can handle even the most bandwidth-intensive environments. MU-MIMO builds upon longtime broadcasting cornerstones--such as spatial multiplexing, beamforming, and scheduling algorithms--to boost overall throughput and distribute bandwidth fairly between devices. Each connected client device receives its own dedicated data stream, so users won't have to compete with one another for bandwidth. Multiple users can simultaneously engage in 4K video streaming, play online games, and perform other data-intensive tasks without latency or buffering.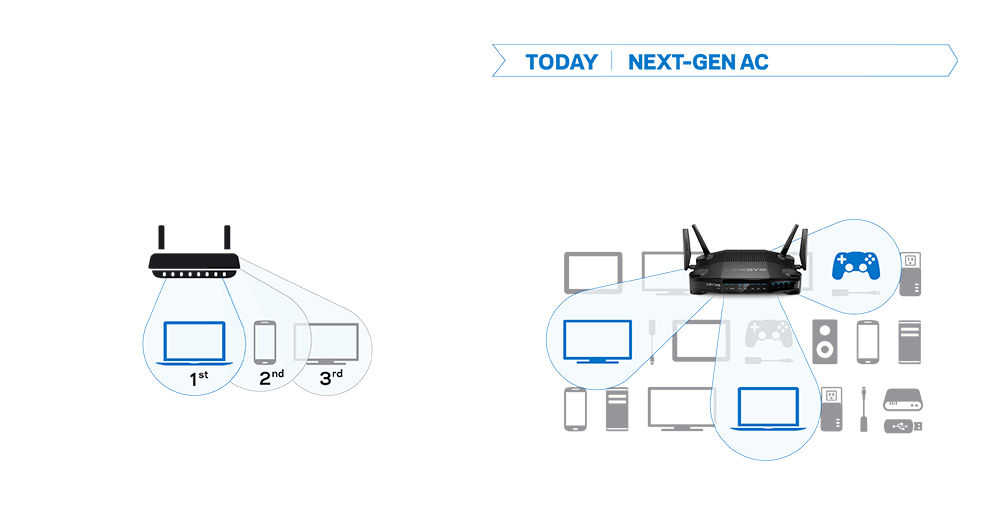 DFS CERTIFIED
Dynamic frequency selection (DFS) certification from the FCC not only allows operation at 160MHz enabling Tri-Stream160, but it also triples the channels available at 80MHz so the WRT32X can operate in the clearest airspace that other routers aren't allowed.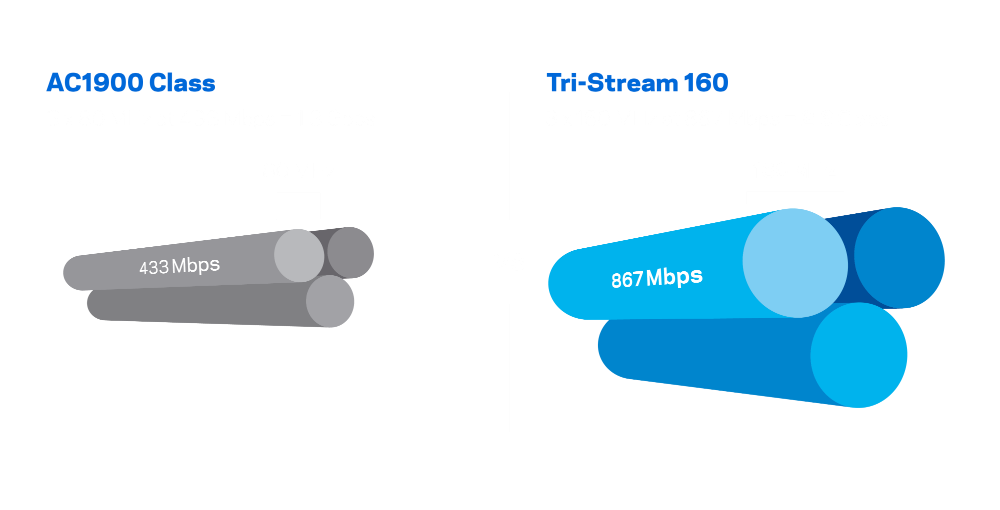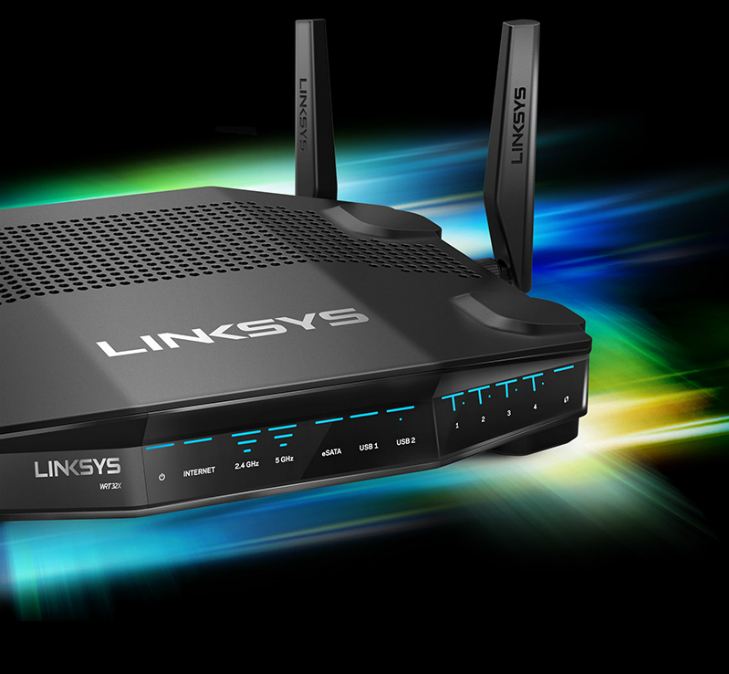 DESIGNED TO DOMINATE
The WRT32X features a performance-grade 1.8 GHz dual-core CPU, custom-built firmware and user interface, four external adjustable antennas with high-power amplifiers, and high-efficiency heatsink. Aesthetically, it boasts a stealthy design, sleek matte-black finish, and blue LED lights-the perfect complement to any gaming environment.
LINKSYS AUTO FIRMWARE UPGRADE
Linksys automatically pushes software updates to your router overnight and seamlessly brings the latest features and security to your home network. The WRT32X will be consistently getting better over time.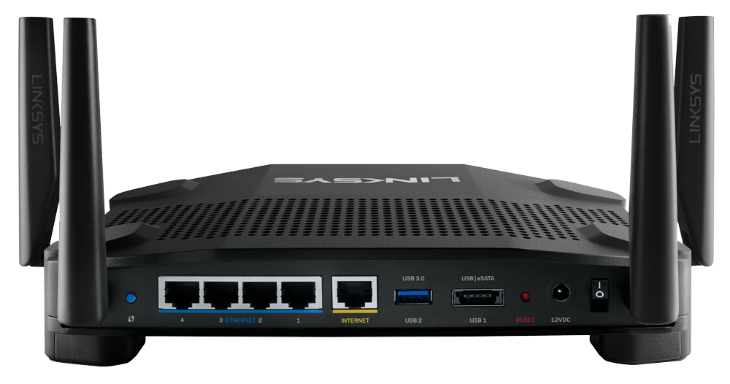 PRO-GRADE GIGABIT ETHERNET CONNECTIVITY
The WRT32X gaming router also features a pro-grade Gigabit Ethernet switch with four ports, making it ideal for connecting multiple gaming rigs or consoles at your next LAN party.
Connect game consoles, gaming laptops, 4K TVs, additional switches, and other devices
Ultra-fast eSATA port for connecting shared network storage devices at high speeds
USB 3.0 port for connecting hard drives or USB memory sticks
Videos
A CLOSER LOOK AT THE WRT32X
A CLOSER LOOK AT THE WRT32X
Technical Specs
Technical Specs
Wi-Fi Technology:
Dual-band AC3200 MU-MIMO w/ MU-MIMO, DFS

Key Features:


802.11a

802.11g

802.11n

802.11ac

Wi-Fi Speed:
AC3200 (N600 + AC2600)

Wi-Fi Bands:
2.4 and 5 GHz (simultaneous dual-band)

Wi-Fi Range:
Very Large Household

Number of Ethernet Ports:


1x Gigabit WAN port

4x Gigabit LAN ports

Other Ports:


One(1) USB 3.0 port

One(1) Combo eSATA/USB 2.0 port

Power

Antennas:
4x external, dual-band, detachable antennas

Processor:
1.8 GHz dual-core

LEDs:
Power, Internet, 2.4 GHz, 5 GHz, eSATA, USB1 (USB 2.0), USB2 (USB 3.0), LAN 1–4 (activity/10/100 Mbps), LAN 1–4 (1 Gbps), WPS

Wireless Encryption:
WPA2 Personal

VPN Support:

Storage File System Support:
FAT, NTFS, and HFS+

Easy Setup:
Browser-based Setup

Certified Operating Systems:
MacOS (10.X or higher), Windows 7, Windows 8.1 (Works with Windows 10)

Minimum System Requirements:


Internet Explorer® 8

Safari® 5 (for Mac®)

Firefox® 8

Google Chrome™

Dimensions (LxWxH):
245.87 x 193.80 x 51.82 mm(9.68 x 7.63 x 2.04 in.) without antennas

Weight:
798.32 g(28.16 oz)

Security Features:


WPA2

128 bit AES link encryption

Regulatory Compliance:
FCC class B

Other Certifications:
FCC DFS Certified

Additional Information:
Open Source ready for OpenWrt

Power Supply:
Input: 100-240V ~ 50-60Hz; Output: 12V, 3.0A

Support
Package Contents
Package Contents
Linksys WRT32X Wi-Fi Gaming Router
Quick Start Guide
4 Antennas
Ethernet Cable
Power Adapter
Reviews
Reviews
Rated

5

out of

5
by
jmanh2c
from
Amazing prioritization!
I've only had this a week but the setup was really easy and quick. The setup steps are very simple to follow and the prioritization setting makes it easy to choose what devices get more speed. That way if you're streaming a movie and it keeps loading because someone else is surfing the net you make your stresming device high priority and no more loading. There is one device , out of 13, that refuses to go to high priority but it's in normal priority and gets plenty of speed. So far it's the funnest router I've had but I'm a techy. live in a two story 5 bedroom 2 car garage house and I get great signal everywhere in the house even out in my car.
Date published: 2017-09-20
Rated

5

out of

5
by
Irken Skoodge
from
Great Router with Fast UI
I love the new interface of the WRT32X. It is completely overhauled from the previous smart wifi interface and is much more user friendly. It is also much faster to use. I think this is the best UI that Linksys has ever made. The wifi is fast and covers all of my house which is 2 floors. It supports dual band 2.4ghz and 5ghz. It has all the features you come to expect like advanced wifi settings, usb features, file sharing, ddns port forwarding, static ip and it even supports openvpn client profiles. It also supports third party firmware, which is a must have feature when I buy a new router. The new killer networking feature is nice because I have 2 Desktops in my house that supports Killer Networking but I never had a compatible router that worked with the prioritization feature for games. The router even lists the devices that are compatible with the new prioritization feature. I also really like the new black color to the router, it gives it a more stealth like appearance and you can even shut off the led lights if you don't need them on. Overall this is a great router in the WRT series.
Date published: 2017-09-17
Rated

5

out of

5
by
Jsyschan
from
An excellent router with a wide range
The Linksys WRT32X AC3200 Wi-Fi Gaming Router is a wireless router meant for gaming enthusiasts. Its unique design ensures that any wireless device can receive a strong signal from it, and the software contains several features that make it especially suitable for gaming. The router is easy to set up within a few minutes, and its fast speeds and wide range make it a necessity for any household. I received a router to test through Linksys's Friends and Family program, and my review of the router is below. Router and Contents The box contains the router along with its four antennas, a flat ribbon ethernet cable, a quick start guide, and a power adapter. I like the design of the adapter, but it is possible that its size covers up other outlets. The design of the router is very nice, being similar if not identical to the other routers in the WRT lineup. Its black body color and blue LEDs really show it was aesthetically designed for gamers. Setup Setup was pretty simple and straightforward. I just plugged in the power adapter, plugged in the ethernet cable, turned it on, and continued with setup through my computer. Please note that you have to go to a website to continue the setup; it is not through the Linksys app on your smartphone. On the website that I was directed to in the quick-start guide, the remaining part of the setup went by quickly. It prompted for me to adjust router settings, asking me for an admin password and wireless settings. It was pretty simple to adjust the router configurations to fit my needs, whether I wanted to split the wireless bands or put them together under one name. The website interface was very smooth and relatively easy to navigate. Testing I tested this in comparison with my old router by using Ookla Speedtest. It's one of those mesh routers with multiple nodes, so it's hard to compare apples and oranges, but I only compared it using one node. With my old router, up close, it received around 42 Mbps download speed while achieving a 15.76 Mbps upload speed as well as a ping of 30 ms. In the worst case, being at the worst possible location in the house, I got a 8.88 Mbps download speed, and the upload speed could not be determined. The ping was also around 30 ms. With the WRT32X, I immediately noticed a different in the speed of the wireless networks. On the 2.4 GHz band, I got at best a ping of 21 ms, a download speed of 40.85 Mbps, and an upload speed of 8.43 Mbps. This was up close with the router in the same room. At the worst case, I got a ping of 15 ms, a download speed of 4.99 Mbps and an upload speed of 5.46 Mbps, and this was in a bad spot halfway across the room. On the 5 GHz band, results were rougly the same, with ping of22 ms, a 43.42 Mbps download speed/8.66 Mbps upload speed at best, and a 1.03 Mbps/0.41 Mbps download/upload speed at the worst spot of the house. The ping for the worst case could not be determined. For being at the worst spot of the router, it's no surprise that 5 GHz has a weaker signal compared to 2.4 GHz, so I'm not too worried about that. One thing I was really impressed by was the range of the router. Compared to my previous setups, the range of the WRT32X was really exceptional. I was able to get a good wireless connection on the second floor of my house at the far corner, while the router was positioned on the first floor at the opposite corner of the house. This was with the 2.4 GHz band. The connection strength is worse with the 5 GHz band, but it was at least better than before, and at the worst spot in the house, I can connect reliably to both channels. In that sense, the WRT32X performs exceptionally well. One thing to note is that during the third day of the test at night, I found that the internet connection became really slow, as if it wasn't connected to the internet at all. I'm able to connect to the router without any issues, but when I try to surf the web going to common websites, my tab just shows that the page is constantly loading, and then it just gives up, saying that the page is not responding. Another issue that was noted is that, with a tablet, when people try to use Youtube or another video streaming app and stream it to Chromecast, the app sometimes takes a long time to load. I don't know why these incidences happens, but thus far, they remain an isolated case, and the router has performed otherwise really well. Final Thoughts Overall, the router performs exceptionally well. Its wide range makes it suitable for any gamer in any room of the house, and its fast speeds allow for a multitude of devices to be online without any lag at all. With an easy to use setup, anyone can set it up and use it immediately. Despite the isolated incidences, the router thus far has performed well without any major incidents and I highly recommend it even if you are not a gamer.
Date published: 2017-09-21
Rated

5

out of

5
by
gambo01
from
Smartthings connectivity issues fix..Best Router!!
I know this router was design for gamers but there are additional futures that make this Router a great solution to resolve multiple issues out there right now. Before talking about these futures I will like to say that the actual hardware is very robust and well build. It fills heavier than my privies routers. Just from seeing the box that it came in you can tell this is a difference type of router. Now lets talk functionalities. One of the best hidden futures is the DFS Certified from the FCC. This mean that this router can operate in the clearest airspace, and this is why is so important. In my case I have been having a lot of issues with my Smartthings devices and my previews routes. Having in the house multiple frequency ( more than 50 smart devices connected to 1 HUB using WiFi, ZigBee,Z-Wave,LAN,Bluetooth,ETC all over the house) I get a lot of interfering with my WiFi signal. Sometimes my WiFi connections just drop, or slow down, or even the router needs to be manually reset. This is a pain and has become a big issue for me for more than a year now. I have try moving my router to difference places, buying WiFi extenders, move Smartthing Hub away from the router, I got a new router, change the frequency of where the router operates to a static one trying to find the least use frequency in the house, but none of this ever work. Now with this specific router Dynamic frequency selection (DFS) the issue seen to been resolve. I finally have a great internet connection and no signal drops. This router find a way to somehow maintain my internet connection strong 24-7... Another great future that I have found very useful is the ability to combine both signals of 2.4 and 5 GHz under one name. I know I could this in the past but is never recommended. With this router I have found that one signal have make the connections faster in all the room of the house and also the backyard. Every time I go into the backyard my internet connection drop, or swithching to from the 5 GHz to the 2.4. No more issue with since I have this router. The other future I'm taking great advantages is the MU-MIMO technology, having over 30 WiFi devices actively working in the house I have seen how this technology has improve the devices most utilized. This is a great Router not only for gamers but also to the average house hold user. This router will eliminate a lot of today home network issue that we see and really can't explain. I will recommend this router 100%..
Date published: 2017-09-17
Rated

5

out of

5
by
Anonymous
from
LIGHTNING PERFORMANCE
Received this product a week ago and I can say I'm absolutely more than satisfied with this router. It delivers amazing speeds that I didn't even know were capable on my current setup. I had previously been using the provided Spectrum Wifi Router and this router definitely outperforms the Spectrum Wifi Router. Gaming is lightning fast and with zero lag. My home is a two story home and this router has no problem covering my entire house and managing all my connected devices which at times can be up to 20 devices. I also really liked that this router supports dual band and it doesn't have to be a different network. The setup is a breeze and takes five minutes or less with the new dedicated user interface it makes setting it up a breeze. I also really liked about the new interface that it has a speed test built right in so I know I'm getting the speeds I pay for.
Date published: 2017-09-18
Rated

5

out of

5
by
moben
from
Best Gaming Router
The Linksys WRT32X comes with 4 antennas, Ethernet Cable and a Power adapter. I only spent 10 minutes to unbox and set it up. I used my tablet to connect to the temporary setup Wi-Fi and It was so easy to follow step by step the user friendly interface. The dashboard is so easy to get in to. I had to setup an admin password, Wi-Fi Names and password. The router has a Simultaneous Dual-Band radio (2.4 and 5 GHz) that delivers higher speed, also the MU-MIMO helps multiple users within the same network to share bandwidth fairly. The Ping time which helps online gaming and VOIP has improved drastically. You also need to make sure that you have the Killer hardware on your PC to take advantage of the gaming Keller technology to ensure the best online gaming experience (Low Ping time). This router does not work with the online Linksys Smart Wi-Fi. I would definitely recommend this router.
Date published: 2017-09-16
Rated

5

out of

5
by
Hawthorn
from
EASY to setup, GREAT range.
Extremely easy to set up, instructions fit on a postcard. Unit is big, I placed mine on a stool behind my TV on the first floor in the front of the house. Check out the picture of the range I am getting in the picture. The Dashboard is easy to navigation to prioritizing your devices.
Date published: 2017-09-19
Rated

5

out of

5
by
CVee
from
Innovative Gaming Must-have!
Great for the Gamer, this Router will offer speed when seconds count! This is a really advanced unit which prioritizes gaming, and prevents extreme lag spikes, ping, thus adding fast consistency needed for great gaming! The interface is all about performance, to keep you on top of your game. Complete with speed and ping test, it detects and displays what's on your network and lets you prioritize what and where you want all of the equipment on the network. You can add and edit rules for port forwarding, and see what's on attached USB drives. It's a control center for your router, basically. The WRT32X is Killer-enabled, and will sync with Killer-enabled PC's, such as MSI, Gigabyte, Alienware, Razer, to name a few. Gone are the days of one computing device per family- the days of household AI, smart devices smart phones, tablets and uber High-Tech virtual reality, global gaming is here to stay. This amazing brainchild of Linksys' features dual-core (2.4 & 5GHz), dual-band (N600 & AC2600 Mbps), secure WPA2 encryption, and SPI firewall. Ports include: 1 x Gigabit WAN port 4 x Gigabit LAN ports 1 x Combo USB 2.0 / eSATA 1 x USB3.0 Data rates: 802.11a/g: Up to 54 Mbps 802.11n (2.4 GHz): Up to 600 Mbps 802.11ac (5 GHz): Up to 2.6 Gbps Another feature is a pro-grade Ethernet switch- 10 times faster than fast Ethernet! The set up was so easy, for such a powerhouse. The quick start guide and online directions are a breeze. There are 4 adjustable antennae, and the unit sits just as well standing as flat. Dimensions are about 8"x10"x2", and it only weighs about a pound. What a great complement to the lightening coordination of a Gamer!
Date published: 2017-09-20
*"Killer reduces peak ping by up to 77%" calculated from the reduction of peak ping rate from 74 milliseconds (ms) to 17 ms when using the Killer Prioritization Engine on the WRT32X and a Killer-enabled PC using a 10 megabits per second (Mbps) down/2Mbps up internet connection that has multiple devices consuming the 10Mbps connection.
The standard transmission rates—450 Mbps or 2600 Mbps (for 5 GHz) and 600 Mbps (for 2.4 GHz)—are the physical data rates. Actual data throughput will be lower and may depend on the mix of wireless products used and external factors.
Killer is a trademark of Rivet Networks, LLC. All rights reserved.
Copyright © Micro-Star Int'l Co., Ltd. MSI is a registered trademark of Micro-Star Int'l Co., Ltd. All rights reserved.
All intellectual property rights, including without limitation to copyright and trademark of this work and its derivative works are the property of, or are licensed to, GIGA-BYTE TECHNOLOGY CO., LTD. Any unauthorized use is strictly prohibited.
Copyright © 2017 Alienware Corporation. All rights reserved.
©2017 Razer Inc. All rights reserved. Razer, the triple-headed snake logo, Razer logo, "For Gamers. By Gamers.", and "Powered by Razer Chroma" logo are trademarks or registered trademarks of Razer Inc. and/or affiliated companies in the United States or other countries.
DD-WRT is a trademark or registered trademark of embeDD GmbH.