Eind 2011 zullen er geen Internet Protocol versie 4 (IPv4) adressen meer beschikbaar zijn door het uitputten van de adresruimte. Internetverkeer zal daarom gebruik gaan maken van de nieuwe generatie Internet Protocol versie 6 (IPv6) adressen. Een aantal vooraanstaande websites zullen deelnemen aan World IPv6-dag en hun inhoud aanbieden met behulp van IPv6 en IPv4. Er zijn echter ook websites die enkel IPv6 zullen ondersteunen. Als uw systeem niet klaar is voor deze overgang, zal u geen toegang hebben tot deze pagina.

BELANGRIJK: Een computer ingesteld met IPv4 kan verbinding maken met IPv6 en IPv4-pagina. Als een pagina echter IPv6-compatibel is, zullen compatibele netwerken altijd de IPv6-standaard verkiezen om verbinding te maken met deze pagina's.

In dit artikel wordt uitgelegd hoe u kan testen of uw systeem (computer, router en internetprovider) compatibel is met IPv6. Volg onderstaande stappen om dit te controleren:

Stap 1:
Open een webbrowser.

Stap 2:
Typ "http://test-ipv6.com" in de adresbalk en druk op [Enter].
 

Er verschijnt een venster dat u informeert dat de controle op de IPv6-connectiviteit van uw computer aan het starten is.


Zodra de test afgerond is, zal u kunnen zien of uw computer compatibel is met IPv6 of niet.

Een typisch venster voor een succesvolle test ziet er zo uit: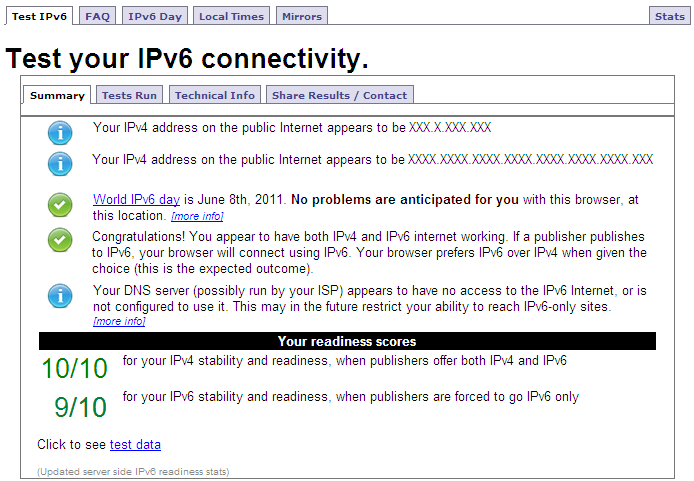 Als u de boodschap No Problems are anticipated for you (Geen verwachte problemen voor u) krijgt, dan zal uw computer naar alle waarschijnlijkheid geen problemen hebben met IPv6.

Een typisch venster voor een onsuccesvolle test ziet er zo uit: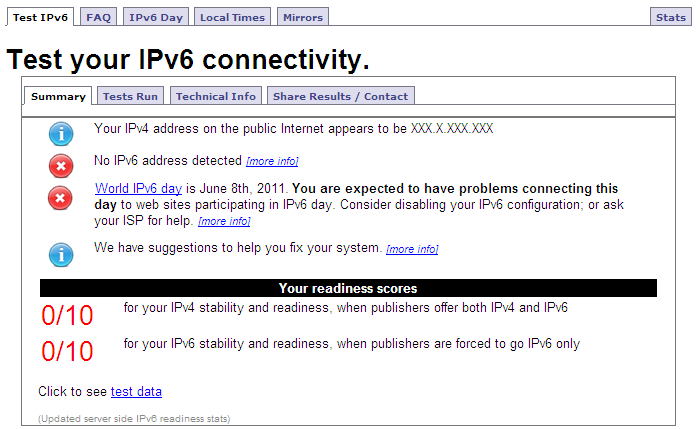 Als u de bericht You are expected to have problems connecting this day (Er wordt verwacht dat u problemen zal hebben met het verbinden op deze dag) krijgt, moet u enkele aanpassingen uitvoeren om zeker te zijn dat u geen problemen zal ondervinden op World IPv6-dag.


Gerelateerde artikelen:
Verschillen tussen IPv4 en IPv6
IPv6 boven IPv4 verkiezen
Het IPv6-adres van uw computer controleren
Linksys routers die IPv6 ondersteunen
Ontvangen van foutbericht "Unable to access dual-stacked content."