Als een draadloos netwerk niet zichtbaar is in de lijst met beschikbare netwerken waarmee uw draadloze apparaat verbinding kan maken, is de SSID Broadcast mogelijk uitgeschakeld. Het uitschakelen van de SSID Broadcast van een Linksys-router is een andere manier om uw netwerk te beveiligen, omdat het uw draadloze netwerk verbergt voor draadloze apparaten.

Dit artikel bevat instructies voor het verbinden van uw iPhone® met een verborgen draadloos netwerk of een netwerk met een uitgeschakelde SSID Broadcast.

OPMERKING: De hier besproken stappen kunnen ook worden gebruikt als u met een iPod® verbinding wilt maken met het draadloze netwerk. 

Stap 1:
Tik op het Settings (Instellingen) pictogram op het hoofdscherm van de iPhone.
 

Stap 2:
Tik in het menu Settings (Instellingen) op Wi-Fi.
 

Stap 3:
Tik op de Wi-Fi-knop om deze functie te activeren.
 

Stap 4:
Tik onder de lijst met Wi-Fi Networks (WiFi-netwerken) op Other… (Anders...).
 

Stap 5:
Voer de naam van het draadloos netwerk (SSID) van de router in.
 

Stap 6:
Tik op Security (Beveiliging) en maak een keuze uit de vermelde beveiligingsmodi.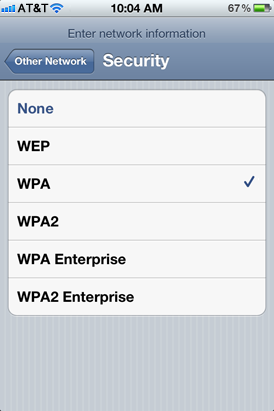 OPMERKING: Ga terug naar het vorige menu door op Other Network (Ander netwerk) te tikken.

Stap 7:
Voer het Password (Wachtwoord) van het draadloos netwerk in en tik op Join (Deelnemen).

OPMERKING: Het wachtwoord is hoofdlettergevoelig.
 
Uw draadloze apparaat is nu verbonden met uw netwerk.
BELANGRIJK: Hier zijn enkele dingen die u kunt doen als u uw draadloze apparaat nog steeds niet met het netwerk kunt verbinden nadat u de bovenstaande stappen heeft gevolgd:
Zorg ervoor dat de MAC-filterfunctie van uw router is uitgeschakeld. Een MAC-gefilterd draadloos netwerk staat alleen de geregistreerde MAC-adressen van apparaten toe om er verbinding mee te maken. Om te weten of draadloze MAC-filtering is ingeschakeld op uw router, gaat u naar de webgebaseerde opstartpagina en klikt u op Wireless > Wireless MAC Filter (Draadloos > Draadloos MAC-filter).

Zorg ervoor dat u het juiste wachtwoord heeft ingevoerd.

Als u het wachtwoord van uw draadloos netwerk heeft gewijzigd, tikt u op het pijlteken naast de SSID van het netwerk waarmee u verbinding maakt en selecteert u Forget this network (Vergeet dit netwerk). U kunt proberen uw mobiele apparaat opnieuw met het netwerk te verbinden met het nieuwe wachtwoord.
U kunt ook uw netwerkinstellingen resetten. Tik op uw iPhone® of iPod® op Settings > General > Reset > Reset Network Settings (Instellingen> Algemeen > Reset > Netwerkinstellingen) opnieuw instellen.

Start uw draadloze apparaat opnieuw op en probeer opnieuw verbinding te maken met het draadloze netwerk.
Als u nog steeds problemen ondervindt wanneer u probeert uw apparaat / apparaten te verbinden met het draadloze netwerk, raadpleegt u de documentatie van uw apparaat of neemt u contact op met de ondersteuning van de fabrikant van uw apparaat voor verdere hulp.
Gerelateerde artikel:
Uw iPhone® verbinden met uw draadloos netwerk